What is Customer Engagement? Customer Engagement refers to the CRM portion of Dynamics 365, which includes Sales, Customer Service, Field Service, and Project Service Automation. These applications make a world of difference in our business processes and how we work. Microsoft knows the importance of robust, well-maintained applications, and they recently released changes that are taking place in future Dynamics 365 updates.
As Administrators, Dynamics 365 users, and IT professionals, we need to use this information to prepare for future releases. Another important aspect to keep in mind is that there will be features or capabilities deprecated, or removed, from Dynamics 365. These features will continue to work until the next few updates, giving us time to plan and update code before the function or capability is removed.
Task Flows
Tasks flows are currently used to create entry forms for everyday tasks, such as post-conference follow-ups. Task Flows will be deprecated and replaced by the immersive experience for business process flows that is planned for the upcoming October release. This solution will give us a similar vertical experience as task flows but will provide us with many more capabilities and benefits. We are experiencing benefits, such as an increase in flexibility while using business process flows. These flows can be built alone, meaning they do not need to rely on any other records in Common Data Service. Another great benefit is that we have the ability to fully customize the appearance of our flows using the PowerApps Control Framework.
Voice of the Customer
The Voice of the Customer for Dynamics 365 app allows users to create and send surveys for collecting feedback. With the recent release of Microsoft Forms Pro, Microsoft is removing Voice of the Customer. Users can create and distribute new surveys until July 1, 2020. However, existing data will continue to remain stored in Dynamics 365.
Moving forward, we suggest that users use Forms Pro which provides seamless integration for surveys within Business Applications, including Dynamics 365 and Office 365.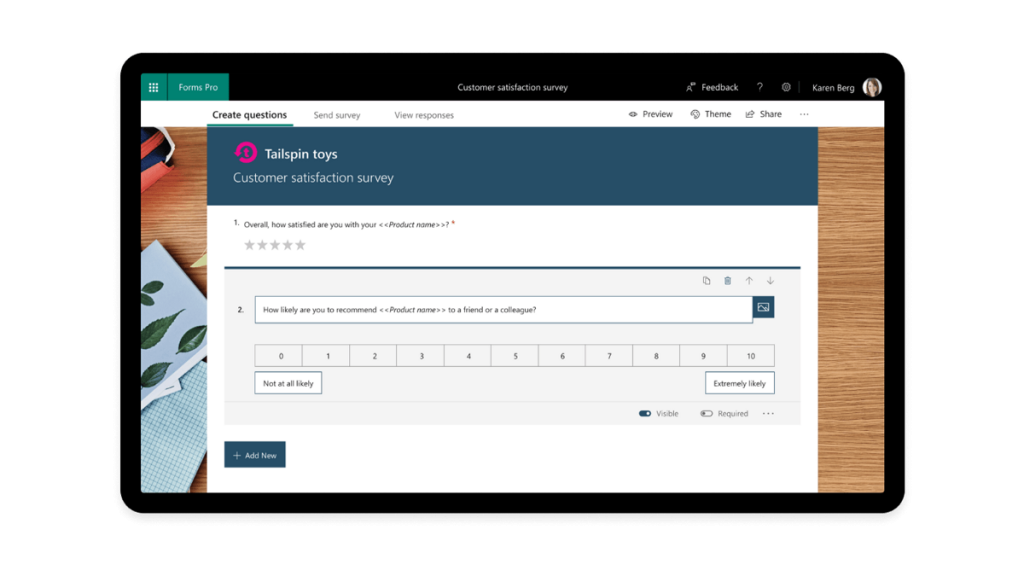 Dynamics 365 for BlackBerry
Dynamics 365 for BlackBerry has been deprecated and will be removed from the App Store on October 31, 2019. After the fall update, Microsoft Intune will be the only supported mobile application for the Dynamics 365 for phones application.
Microsoft will continue to provide a secure and updated application for users until the October update, but will not release any additional features. After the update, the Dynamics 365 for BlackBerry application will be removed from the app store and all support will end.
If you are currently using this application, plan to migrate to Dynamics 365 for phones by October 31, 2019. We encourage you to migrate as soon as possible, so you experience the full benefits of Microsoft's ongoing investments into the functionality, performance, and reliability of the Dynamics 365 application.
Service Scheduling in Dynamics 365 for Customer Service
The existing service scheduling in Dynamics 365 is deprecated and will be removed in a future update. The new scheduling experience, Universal Resource Scheduling (URS) provides an efficient way to schedule resources for service activity.
The new scheduling entities we will notice while switching solutions include: facilities/equipment, resources, requirement groups, resource categories, organizational units, business closure, schedule board, and service activities. This update gives more options, which saves our company both time and resources.
Dialogs
Dialogs are interactive processes in Dynamics 365 that collect and relay information through step-by-step scripts from users. During this process, we see a wizard-like interface allowing users to make selections or enter data throughout the process of each page.
Dialogs are now deprecated and will be removed in the next update. When we replace this solution, it is important that we deliver the same or better user experience as before. We will now be using Business Process Flows and Canvas Apps that provide us with increased capabilities while streamlining our form creations.
Additional capabilities with Business Process Flows include:
Custom controls
Process analytics
Additional capabilities with Canvas Apps include:
Configurable layout
App analytics
Run flows
Multi-entry page composition
Data connectors
Stand-along app launching
Usage of Parature knowledgebase
The Usage of Parature knowledgebase is deprecated. This solution has been replaced by Knowledge Management features in Dynamics 365.
The knowledge solutions dialog box under Knowledge Base Management Settings providing a connection between Dynamics 365 and Parature will be removed in a future major update.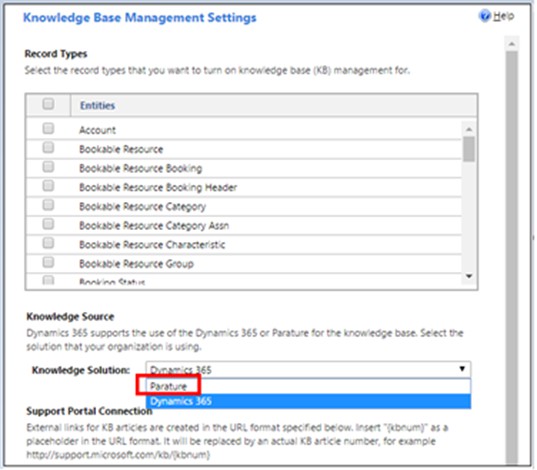 Project Service Finder
The Project Service Finder app for Dynamics 365 for Project Service Automation is deprecated. Project Service Automation releases in accordance with Microsoft's Modern Lifecycle Policy will support the legacy application. This app functionality will be available in a future release in the Project Service Automation application.
Contracts, Contract Templates, and Contract Line Items
Contracts, Contract Templates, and Contract Line Items have been deprecated and will be removed in a future Dynamics 365 update. The features of these solutions have been replaced by Entitlements in Dynamics 365 for Customer Service.
Standard SLAs in Customer Service
Standard service level agreements (SLAs) are deprecated and will be removed in a future Dynamics 365 update. These standard SLAs are replaced by Enhanced SLAs.
We will gain new features that are not available in standard SLAs:
Dashboard or report creation based on the SLA KPI Instance entity
Case-on-hold support
Time calculation auto-pause and resume
Success action support
Relationship Roles
Relationship Roles in the Business Management section of settings are deprecated and will be removed in a future Dynamics 365 update. Relationship Roles have been replaced by Connection Roles. Connections enable us to easily associate users, contacts, sales orders, quotes, and other entity records. When we are viewing our connections in a record, we can view all of them, in addition to every record associated to each connection.
Mail Merge
Mail Merge has been used to create multiple documents at once. These documents have an identical layout, formatting, text, and graphics. Mail Merge, along with Mail Merge Templates are deprecated.
In Microsoft Dynamics CRM 2016 Microsoft introduced server-side document generation using templates in Excel and Word. We can now take our data and use Excel and Word templates to provide customized data analysis or standardized documents for our organization.
Legacy process-related attributes in entities
ProcessId, StageId and TraversedPath process-related attributes on entities are now deprecated. Business Process Flows SetProcess action has also been deprecated. These legacy process-related attributes do not guarantee the consistency of the business process flow state and we recommend that you use the attributes of the business process flow entity.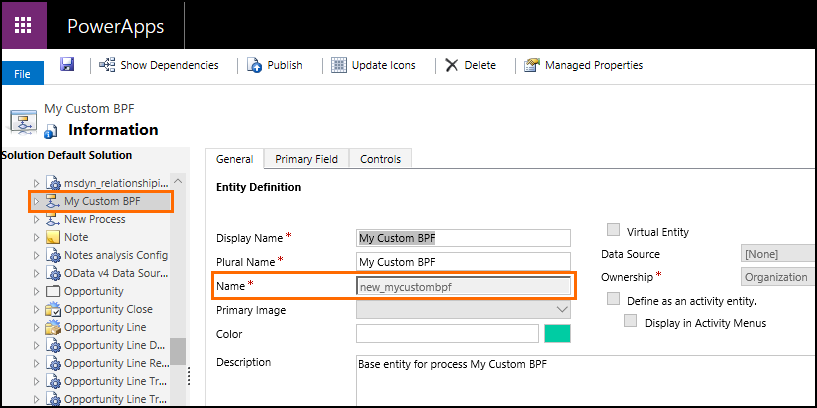 Client APIs
Microsoft is reorganizing the Xr client API object model to better align with the need for using the same client scripts. We now can run these APIs without having to worry about changing them based on the context or the web client.
The deprecated client APIs will continue to run securely until they are officially removed in a future Dynamics 365 update.
EntityMetadata.IsInteractionCentricEnabled property
Supported entities in the Unified Interface are now enabled for the new Customer Service Hub interactive experience. The EntityMetadata. property, which indicates whether an entity can be enabled for interactive experience, is no longer relevant. The corresponding setting for this property in the Customization tool, Enable for interactive experience, is removed in the current release, and the EntityMetadata.IsInteractionCentricEnabled property will be deprecated from the updated version of Dynamics 365 SDK for Customer Engagement.
Silverlight (XAP) web resource
Silverlight (XAP) web resource is no longer supported on the new Unified Interface introduced in the Dynamics 365 Customer Engagement app (version 9.0) and is deprecated on the web client. Instead of these solutions, professionals should use HTML web resources with HTML5 to create UI components to visualize and interact with data.
Microsoft's Customer Engagement Applications continue to bring great value to both Microsoft partners and our organization. Microsoft has listened to the needs of users and has focused on delivering powerful updates for our benefit. We want to provide our customers with the best experience and continue to move forward in the industry of changing technology. We must act quickly and stay up-to-date with these changes taking place. What do you think about these deprecations and updates? What would you like to see in the future? Let us know in the comments below!