Digital transformation is a major focus with Microsoft. Businesses are now rethinking their processes and reorganizing segments because of it. A seamless solution to integrate is Dynamics 365 with LinkedIn Sales Navigator. This integration makes social selling easy with the right sales tools needed to maintain strong customer relationships and find new leads. With everything in one place, we have the flexibility to work in a single platform with access to sales, leads, account data, analytics, and more.
One of the leading platforms that work hand-in-hand with Dynamics 365 is Outlook. If you are in sales, Outlook is most likely where you find yourself starting the day. By integrating LinkedIn with Outlook, we have access to our customer and lead engagements throughout their journey. We can easily track an email from our contacts and gain the ability to see complete LinkedIn profiles and quickly send in-mails. These tools help sellers prioritize time more efficiently and drive higher email engagement.
We gain the ability to view relationship activity on specific emails. The relationship assistant in Dynamics notifies us when a valuable engagement occurs, such as the time of an opened email. As a result, there were several instances where we have been able to capitalize on the best timing to close a sale or reach out with another email.
When LinkedIn Sales Navigator, Dynamics, and Outlook are working together we see a significant acceleration in our sales relationship through shared connections, recommended leads and analytics.
Sales Navigator Profile Widgets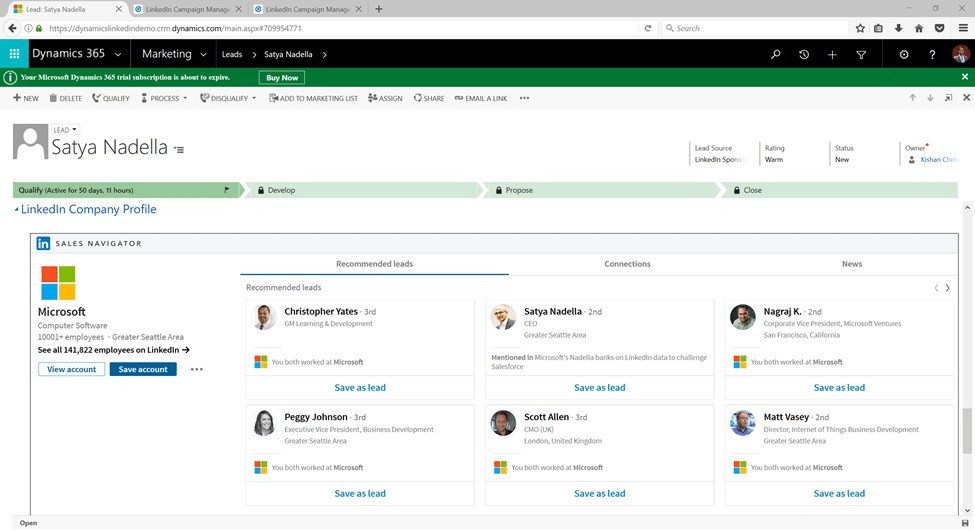 The widgets in Dynamics 365 save a lot of time and resources when searching for leads or future employees.
Icebreaker
The Icebreaker tab shows the highlights and recent activities of that specific prospect. This allows us to identify commonalities between us and our prospects. For example, there could be a recent job move, a conference they attended, an article they shared, etc. This allows us to have a more personal relationship and connect with that prospect individually.
Get Introduced
Secondly, the get introduced tab shows shared connections that allow us to make an introduction to the individual. When I am using Dynamics 365 and looking at Sales Navigator, if I have no direct relationship with a person, I always check to see if we have someone in common.
Another option for this is TeamLink, an addon to Sales Navigator. This product allows us to look at 100,000+ other people to see if there is someone else that knows this person. We can search our personal contacts, mutual connections, and our TeamLink contacts to see if someone can help us get introduced to a new prospect!
Related Leads
As we are looking for prospects, the related lead tab can show you who is associated with them. It may show others in the company with a similar title. Even with algorithms in place, we can see others with similar titles from other companies. For example, if I wanted to have a conversation with a prospect's boss, I can quickly pull that information from the related leads tab.
Industry News
Industry News allows our reps to gain insights on companies and stay informed on leads before calls begin. Even if we are not connected to that specific prospect, we can save them as a lead and get updated with changes.
Account Connections
Account Connections shows the best LinkedIn connections for a company. If I am researching Microsoft, the account connections tab will show me the connections I should know and be aware of, and why. For example, Satya Nadella. We can also adjust the filters to view different title or roles within the company.
Account News
Before I call a customer, I want to see what is going on within their company. Are they announcing earnings, a press release, or even a new product release? Account News allows us to see what is essential to the company and the direction they are heading in.
Some reoccurring questions in sales that can be answered by Dynamics & Sales Navigator are:
Which opportunities should I prioritize?
While looking at the Dynamics 365 Sales Hub, we get a full view of real-time analytics. These analytics allow us and our sales team to prioritize opportunities by the health of customer relationships.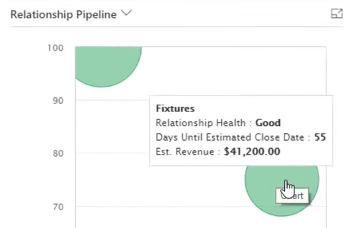 While assessing open opportunities by relationship health, we can see crucial information, such as days until estimated close date, relationship health state, and time engaged with the customer. These details in Dynamics 365 help us better understand, "Which opportunities should I prioritize?". 
How good is our customer relationships and satisfaction rates? When did we last speak with the customer?
When closing sales, speed is a significant factor in driving sales and relationship help. The relationship health score and trend indicator quickly summarize the opportunity by integrating accurate engagement data from Office 365, Dynamics 365, and LinkedIn.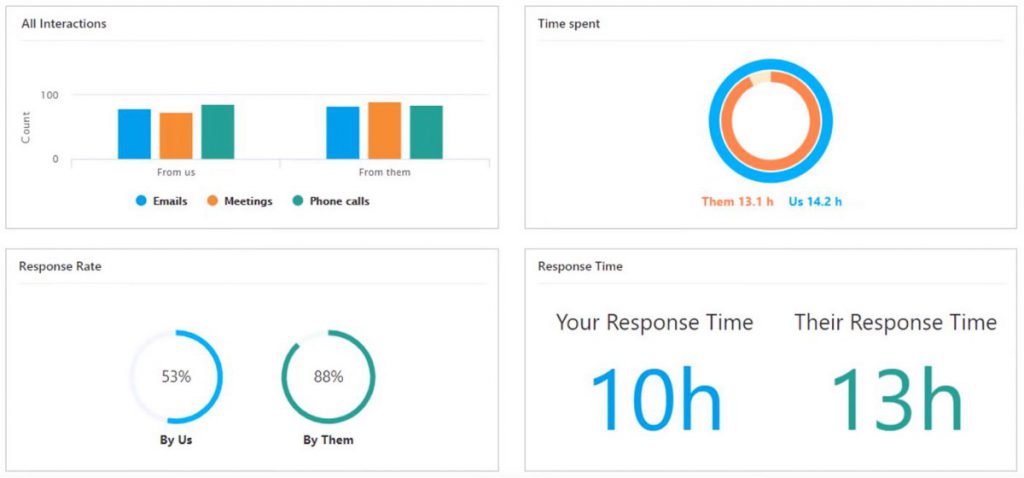 Staying informed on time spent, response rate, and time are crucial. Knowing the balance of communications in the opportunity relationship is key to gauging interest and is an additional signal for predicting sales outcomes. We want to keep our sales teams engaged with the ability to act on pressing signals of action; this leads to closing sales faster and retaining more customers in the pipeline.
We are integrating LinkedIn Sales Navigator with Dynamics 365 and are seeing sales increase tremendously in our business and our Microsoft Partner's businesses! Through the customer journey, from a lead to a long–term customer, this integration is helping Partners generate more revenue than ever before. These tools are improving both our customer satisfaction and even employee satisfaction. A smooth and integrated solution is the best bet for any company out there!
Are you looking to get started with this integration? If so, send us an email or give us a call!