IoT Signals, which was announced by Microsoft last week, is a new report created to give an overview of research learnings from the Internet of Things ecosystem. The goal of the report was to assist business leaders in designing their own IoT strategies to provide information on the benefits and challenges for Microsoft partners and users. IoT Signals was created by Hypothesis Group, insights, design, and strategy agency to complete the report. A 20-minute online survey was conducted with over 3,000 decisionmakers and enterprise companies across the globe, to facilitate the process. Professionals from different industries such as manufacturing, retail, government, healthcare, and more, were taken into consideration for the overall findings. We have rounded up five key takeaways from the report so you can have a quick overview of the document.
1. 85% of the respondents are in IoT adoption, and three-fourths of these have IoT projects in planning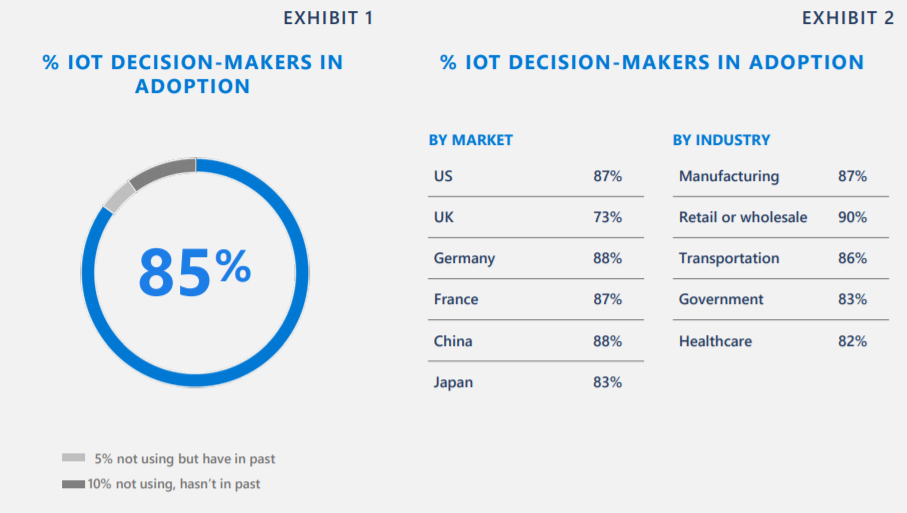 The Internet of Things has grown rapidly over the past few years due to its impact on business results. Powerful companies, such as Starbucks, have found success with IoT technology. The majority of decision makers approve of IoT because they have learned that it provides a strong ROI or return on investment. Professionals in IoT adoption predict that there will be a 30% ROI increase in about two years, and the critical drivers are AI, Edge Computing, and 5G.
2. 88% of IoT Adopters believe IoT is critical to business success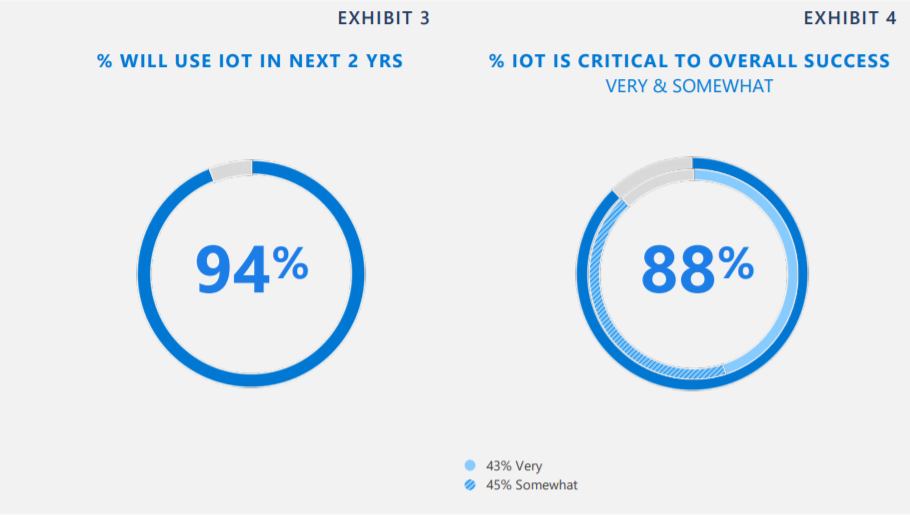 There are a few significant reasons why companies look to adopt IoT. The top four reasons are typically operations optimization, employee productivity, safety, and security. Companies have been shown to utilize IoT to manage the supply chain, assure quality, track assets, and enable sales as well. In general, developers view the Internet of Things to streamline processes and work more efficiently as an organization.
3. 97% of IoT Adopters have security concerns when implementing IoT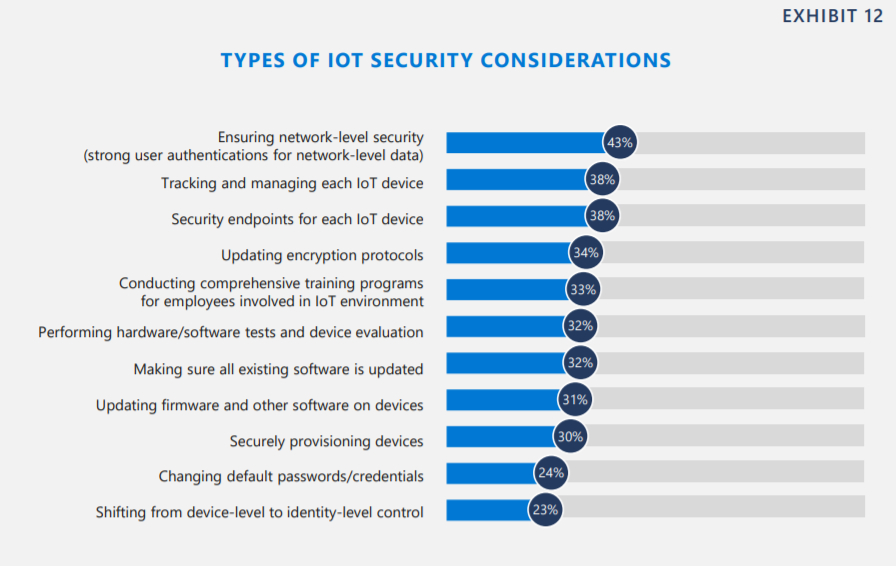 While IoT has proven to be successful, there are still challenges that companies face. The top security concern is transferring data via the internet. Hacking is common in the information technology industry. As a result, there has been a wave of security breaches over the past few years. Microsoft has made investing in security a top priority, as they understand this can make or break one's impression on IoT.
4. 47% of IoT Adopters say there's a lack of skilled workers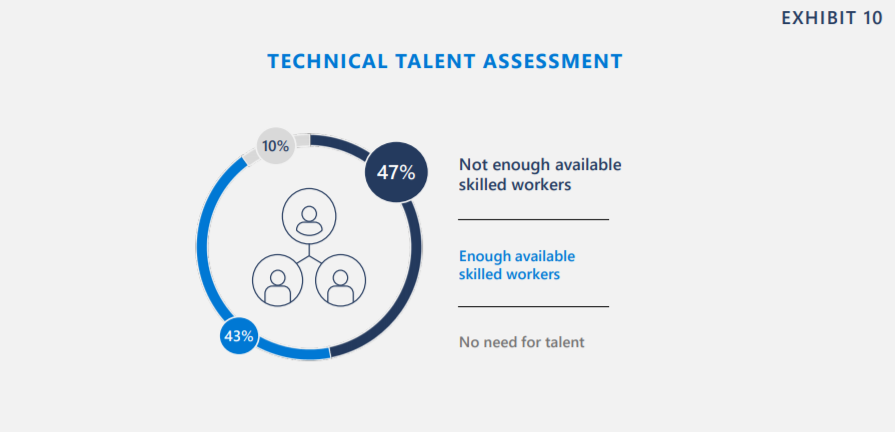 During the research, it was discovered that only one–third of IoT adopters felt that their company has the proper workforce support. Having access to a sufficient amount of trained employees can determine whether or not the organization will experience a successful IoT adoption. Specific staffing obstructions include a lack of knowledge, technical challenges, and budget restrictions. Even though this a common issue, companies who lack skilled workers still try to utilize IoT.
5. 38% of IoT adopters cite complexity and technical challenges to using IoT as a barrier to further their IoT adoption
This statistic ties into the one above – there seems to be a lack of knowledge amongst professionals working with IoT, and it is currently the number one challenge for users. Microsoft's reasoning behind complexity being an ongoing problem is IoT is relatively new, so finding subject experts can become difficult. This affects the overall success of the technology because a lack of resources can prevent decision makers from further adoptions and implementations.
Microsoft is the first to admit there are distinct challenges with IoT. Considering that the Internet of Things is a driving factor for several companies, Microsoft plans to invest $5 billion into the ecosystem by 2022. If organizations implement the seven key ingredients for success – business strategy, leadership and organization, a technology roadmap, talent, operations, partnerships, and security – then they will be headed down the right path on their IoT journey.