We welcome you, our loyal readers, back to "Meet DCG" the EIGHTH installment! Are you enjoying getting to know our staff? We are enjoying being able to show off the ones you make our company whole and creating the magic behind the computers.
This month we introduce you to Matt Baum one of our consultants here. Matt enjoys spending time outdoors; fishing, bow hunting, and hiking. A fun fact about Matt is he served in the US Army for 8 years and originally went to college to study law!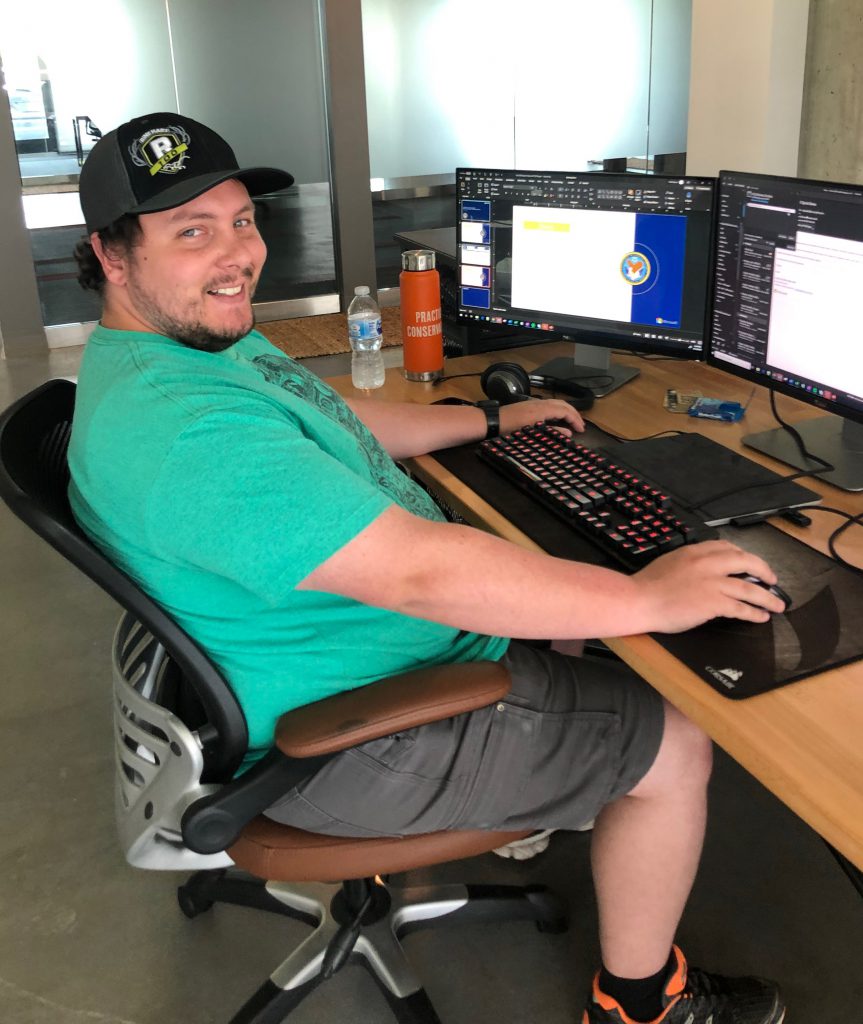 Guide us through your career journey: How did you end up here?
I started my IT journey working at Apple in college. After graduation

,

 I had a short stint in retail management where I was able to grow my leadership skills. I went to work for myself doing consulting for IT in the construction industry; and it's still something that I'm passionate about as a craftsman. A friend of mine pulled me into CRM several years ago, and I ended up here at DCG as a contractor on a project. With my wife changing careers, I decided the contracting gig wasn't for me 

anymore,

 but 

I 

wanted to stay at DCG

.

 So now here I am

 _ months later

 
What influenced your decision to become part of DCG? 
My biggest influence was the

 people and the clients that I got to work with. Seeing this company grow and the awesome people that are coming on board excites me, along with all the new and interesting clients!

 
What's your go-to productivity trick and how did you come up with it?
My go-to productivity trick is m

usic. If I really need to zone in on work I 

use

 music to boost my productivity. I probably wear headphones over 12 hours a day.

 
What is your favorite Microsoft product that we offer and why?
I'm a data nerd, so D

ynamics 365

 is hard to beat for me.

 
What advice would you give to our readers if they are unsure about switching to Microsoft Dynamics?
I think that too many people look at Microsoft Dynamics as 

a 

huge, complicated business tool – when 

really,

 it's quite the opposite. It's a relationship nurturing tool. Use it to build and fortify the relationship with your customer, and the rest will come.

 
What are some of your pet peeves?  
Some of my pet peeves are when p

eople leav

e

 the volume on odd numbers. 

Another one is when p

eople enter or exit

 

a store where the sign clearly says the opposite.

 These people are the absolute worst.

 
If you could bring back any fashion trend what would it be? 
I'm not sure if mullets 

are

 considered a fashion trend, but I'm working on bringing it back as we speak. Can't wait to have a sweet mullet later this fall.

 
What is your most interesting/embarrassing office story?
When I worked at Apple I accidentally left for the day with my email open. Somebody emailed the whole store from my email and "Inform

ed

" the whole store on the proper pronunciation of .gif

…(

it's JIF, by the way).

 
How do you prefer to start and end your day?
I prefer to start and end my day t

he same way, the news. Does that make me old? I love to listen to the things that happened overnight when I wake up, and I love to listen to the things that happened throughout the day when I go to bed.

 
What is your guilty pleasure?
My guilty pleasure is 

McDonalds dip cones – too bad the ice cream machine is ALWAYS broken.

 
If you could choose a superpower, what would it be and why?
If I could choose a superpower it would be t

he ability to fly. Free airfare for life? Yes please.

 
What character from Game of Thrones do you most identify with and why?
I would identify most with

 

Thormund

? 

He always cracked me up, and my wife really liked him. 

So,

 I guess that's a solid answer.

 
What is your favorite quote that you live by?
My favorite quote

 to live by is,

 

"If liberty means anything at all, it means the right to tell people what they do not want to hear." ― 

George Orwell

 
If you could go anywhere in the world on vacation, where would you go? 
If I could go anywhere on vacation I would choose 

New Zealand. Great hunting and amazing scenery.

 
If you could choose your age forever, what age would you choose and why?
Oh man, no idea. Probably 25? No idea why. Probably because I wasn't as sore when I woke up back then.

 
If you were a city, which city would you choose to be and why?
If I was a city I would choose 

Telluride, CO – have you ever seen it? Look it up, it'll make sense.

 
What is one food you could eat forever?
If I could eat one thing forever, 

I would eat 

Fried chicken

 and

 dark meat–easiest question so far.

 
If you were to create a slogan for your life, what would the slogan be?
My slogan for my life is

,

 

"Anyone can learn anything with enough time and willpower"

 
If you could time travel, which 
period of time
 would you go back to visit?
I would go back 

in time 

and visit the 

Colonial 

T

imes – around the founding of America.

 
Which holiday is your favorite and why?
My favorite holiday is 

Fourth of July

. 

Celebrating the freedom from a tyrannical government is always a good time.

 
What's your biggest fear? What's the biggest fear you've ever faced?
My biggest fear is s

inging in public. I had to face this fear in every choir and church play recital until I was in 6

th

 grade. It was a yearly nightmare for me.

 
Tell us about a unique or quirky habit of yours.
As previously mentioned – the volume 

MUST

 be on an even number, or 

a 

multiple of 2.5.  

So,

 if the volume needed to be somewhere between 20-30, the only numbers I will put it on is 20, 22, 22.5, 24, 25, 26, 27.5, 28 and 30.

 
You're going sail around the world, what's the name of your boat?
If I am going to sail around the world, the name of my boat would be

,

 

"Hope This Works"

 
What do you still have left to do on your bucket list?
I've actually never done skydiving

 so that is still on my bucket list

. 

I'm an adrenaline junky so I feel like that's 

pretty high

 on my list.

 
Would you rather be invisible or read minds? Why?
I would rather be 

Invisible. You might as well be able to read minds because people will ALWAYS say when they are thinking eventually. 

Also,

 it would be cool for hunting.

 
Thanks for tuning in to learn more about Matt. Join us next month for Meet DCG number nine!
Laura is a Partner Content Creator with a unique perspective and eye for creativity. She started with DCG in 2017 and has a total of 2 years of marketing experience. Some of her daily responsibilities include building webpages, producing and editing videos, engaging with other partners on social media, and publishing blogs. She loves using her skills and creativity to build company value while producing attention-grabbing content to share online.