The automobile industry was revolutionized by Karl Benz and Henry Ford for the start of mass-producing the original development of a car. Now, 100+ years later, the industry is projected to transform again. However, this time, it will have a push to develop connected, personalized, and autonomous driving experiences. This includes electric vehicles and new mobility business models from a ride-share to ride-greeting and intelligent multimodal transportation concepts.
According to McKinsey & Company, the automobile industry is anticipated to see significant growth by becoming a $6.6T industry by 2030 with business models accounting for 25% of revenue. Individual car ownership will increasingly be replaced by shared vehicles and electric transportation that manufacturers are developing to enable large fleets that offer mobility-as-a-service. This includes creating a modernized in-vehicle experience with productivity, entertainment, and personal assistants that are entirely safe and secure.
A data-driven mindset is required for this transformation. The automotive industry creates an immense amount of data, but companies aren't fully set up to turn it into relevant insights yet. Do you know what the digital feedback loop is? The future success of this transformation depends on the ability to identify and capture digital signals and change how businesses approach innovation through this.
"The digital feedback loop is the entirety of the enterprise can be connected with relevant data— whether it is pertaining to relationship management with customers and partners, or engagement with employees, core product creation or enterprise operations— to drive continuous improvement in products and services, mobility companies must differentiate from their competition."
– Microsoft
Microsoft supports the auto industry by allowing access to this enormous potential by providing intelligent cloud, edge, IoT, and AI services. Also, by helping these automotive companies build and extend their own digital capabilities. As a result, Microsoft, for the first time, is joining the Frankfurt Motor Show (IAA). They will showcase their approach to how they began working within the automotive industry to empower organizations of all sizes to transition into a smart mobility service provider.
Automotive Strategy
There are five focal areas that Microsoft is focusing on their approach and expansion to the partner ecosystem. Focusing on customer engagements along with the extensive global partner network to support success within: connected vehicle solutions, autonomous driving development, smart mobility solutions, connected marketing, sales and service, and intelligent manufacturing and supply chain.
1. Empowering Connected Vehicle Solutions
The core of connected vehicles is the Microsoft Connected Vehicle Platform (MCVP). Companies can build connected driving solutions that span from in-vehicle experiences and independent driving, to predictive services and connectivity. This is a result of the combination of advanced cloud and edge computing services, with a strong partner network.
2. Accelerate Independent Driving Function Development
Microsoft creates a comfortable and personalized driving experience with a comprehensive set of cloud, edge, IoT, and AI services and a partner-led environment that allows collaboration development across all companies. They empower car makers, suppliers, and mobility service providers to accelerate their delivery of independent, safe, and comfortable driving solutions.
3. Enable the Creation of Smart Mobility Solutions
Two aspects that are critical to building smart mobility solutions are intelligent mapping and navigation services. Microsoft decided to partner with companies such as TomTom and Moovit, as a result.
4. Empower Connected Marketing and Services Solutions
The Microsoft Automotive Accelerator allows auto companies to schedule appointments and automotive services that are enabled through proactive communications. With Microsoft Business Applications, Microsoft's automotive partners, suppliers, and retailers can create new customer insights and develop omnichannel customer experiences.
5. Provide Services to Build an Intelligent Supply Chain
Microsoft works with Icertis, BMW, and others to develop an intelligent supply chain. Being able to drive end-to-end digital transformation requires an integrated digital supply chain, from the factory, to the shop floor, then to the end customer delivery.
The Digital Feedback Loop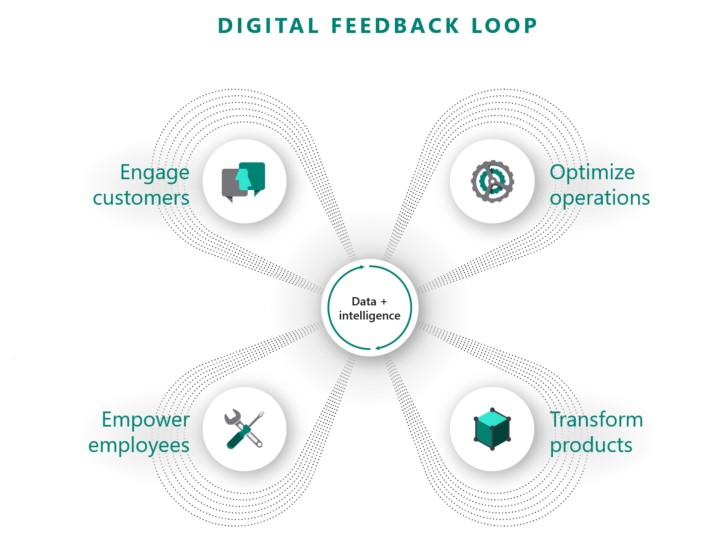 With the utilization of Microsoft's Business Applications, partners are entirely capable of transforming their business, which in the end will better optimize overall processes. Microsoft provides their customers with a modern, integrated, and intelligent application for every moving aspect of your company. The combination of the Common Data Model and Microsoft Business Application is known as the framework of the Digital Feedback Loop. The center of it all is data and intelligence, but the five pillars keep it stabilized. Engaging customers, empower employees, optimizing operations, transforming products, and data and intelligence are the key areas that keep the Loop a continuous process.
Users can connect their data and apply intelligence to drive the digital transformation within the next generation of business applications. A unified business helps connect people, processes, and data across Dynamics 365, Office 365, LinkedIn, and Azure. Also, being able to adapt your needs by integrating applications with your current system or tailoring on them with the Microsoft Power Platform is another benefit to the Digital Feedback Loop.
The Digital Feedback Loop gives businesses, especially in the automotive industry, a chance to take a modern approach by infusing AI, mixed reality, social and mobile capabilities for a swift business innovation. The question you need to ask is, are you data-driven?
For more information on where Microsoft will be located at this event, check it out here.
Samantha is the Partner Marketing Manager at Dynamic Consultants Group. She has a bachelor's and a master's degree that are marketing communications related. She has been working in the Marketing field for 7 years now. Sam specializes in creating the content strategy for the marketing department, publishing blogs, planning and organizing all aspects of company events, conferences, and the overall marketing department's day-to-day tasks. She is passionate about the tech community because of the constant innovation that occurs, especially in the Microsoft Partner Network.