As a Microsoft partner, you are probably aware of the amount of information available at your fingertips. Due to the amount of resources, it can become overwhelming when trying to decide which ones your team should be using daily. This is why we have decided to list the top 5 resources we think ALL Microsoft partners will find valuable. Be sure to read each "AT A GLANCE" section if you want quick highlights on how these platforms can be helpful to your business.
Partner Benchmarking Tool
The Partner Benchmarking Tool, powered by Fifty Five and Five, is a free resource that allows you to evaluate the three core components of your digital efforts – your website, blog, and social media channels. Microsoft partners can reveal the specific areas that may need improvement. Not only does this tool help you visualize your strengths and weaknesses, but it provides useful tips on how to improve moving forward. We, at DCG, have personally experienced success with The Partner Benchmarking Tool and found several ways to better rearrange our website. To get started, head to your website, input your website/social accounts/blog, and the tool will begin doing all the leg work for you. There is even a line graph that depicts your progress throughout your digital marketing journey.
AT A GLANCE – Why this is valuable for you, Microsoft Partners:
– Receive your overall marketing score
– Analyzes website, blog, and social
– Portrays your digital marketing progress
– Provides resources to improve your marketing efforts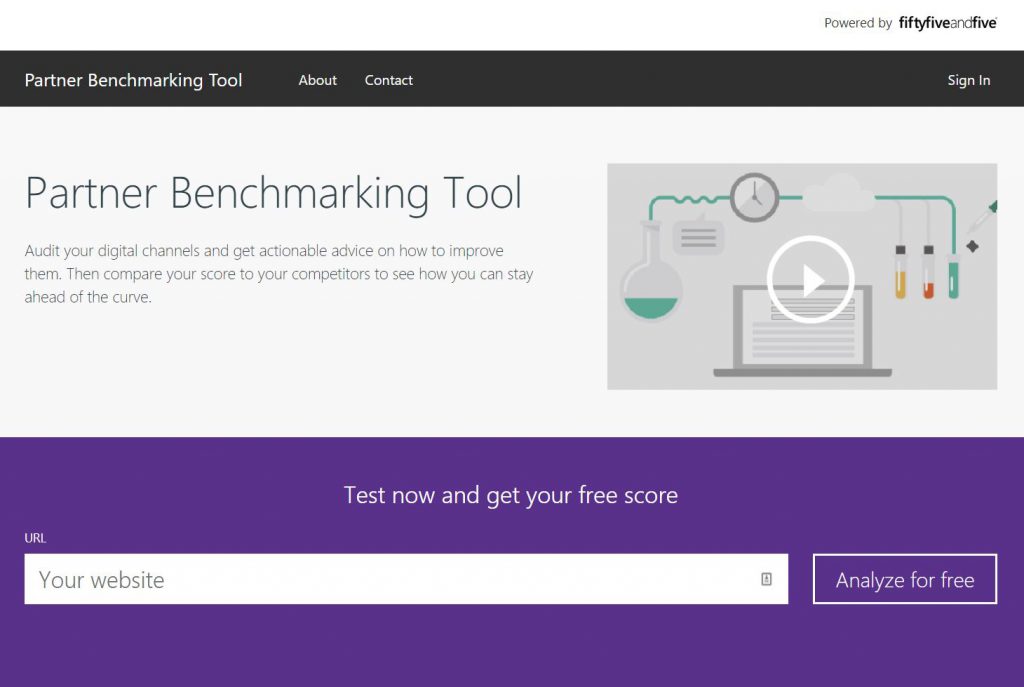 Microsoft Partner Community
Regardless of the industry, a community provides both a sense of belonging and acts as an area for professional growth. Microsoft's investment in their partner network lead to the creation of the Partner Community site. It is a centralized online platform on the Microsoft Partner website where partners can connect with each other, Microsoft SMEs, and industry leaders who truly make a difference. Social networking is one important aspect to the foundation of this group, but it should be looked at as a hub of intellectual discussion. You can look for Q&A sessions, important updates, blog topics, and general advice.
AT A GLANCE – Why is this valuable for you, Microsoft Partners:
– Partner event calendar
– Microsoft Partner Community idea space
– Trending topics
– Latest discussions/posts
– Featured stories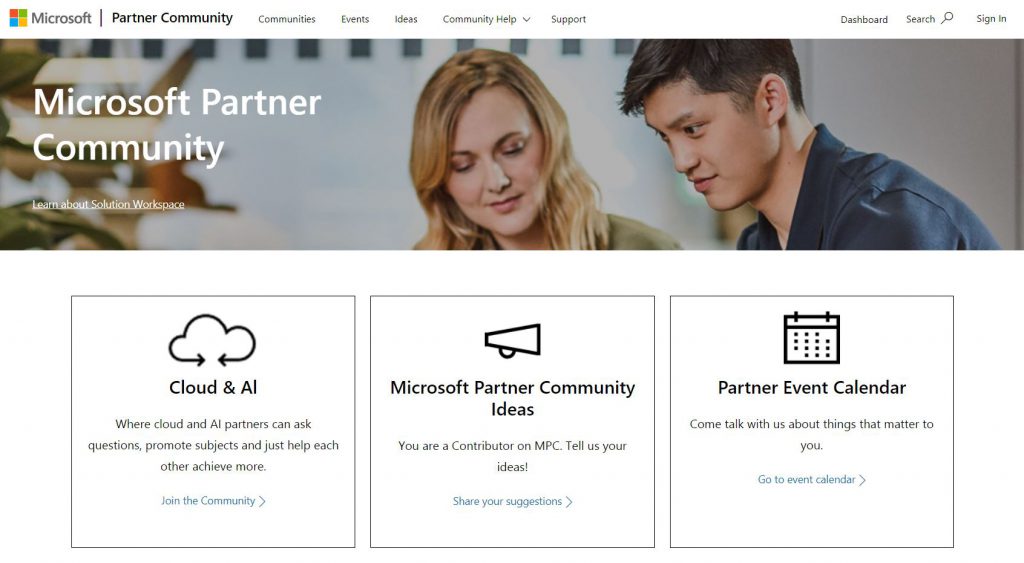 US Partner Community Blog
The US Partner Community Blog provides an abundance of resources tailored to make your journey with Microsoft successful. When you first visit the site, it is separated into four sections, which includes featured authors, featured content, recent posts, and tweets. We have found the most value in the "Top Stories for US Partners" post that gets shared once per week. These posts outline the following: new blogs, upcoming partner community calls, featured videos, upcoming events, learning news, and network news.
PRO tip for partners – start producing social and blog content based on what is shared weekly on the US Partner Community blog. You will be sharing what is currently relevant to partners, which will most likely lead to higher engagement from your target audience.
AT A GLANCE – Why is this valuable for you, Microsoft Partners:
– Blog posts are broken down by categories
– US Partner website
– Featured content and authors
– Key links
Partner Play-in-a-Box
Looking for tips and resources on how to sell specific solutions? The Partner Play-In-a-Box presentations are exactly what you need. Each Play-in-a-box, or PIB, is broken up into four categories based on the specific solution area: Modern Workplace, Business Applications, Applications & Infrastructure, and Data & AI. If you look at the image we provided below, you can see that the Business Applications PIB includes important Marketing Assets your team can utilize. From the "D365 Central Inside Sales Guide" to "Reimagine productivity with Microsoft Dynamics 365 eBook", the resources for partners is endless.
– Anatomy of a sales play
– PowerPoint presentation packed with everything you need
– Play-in-a-box for all 4 solution areas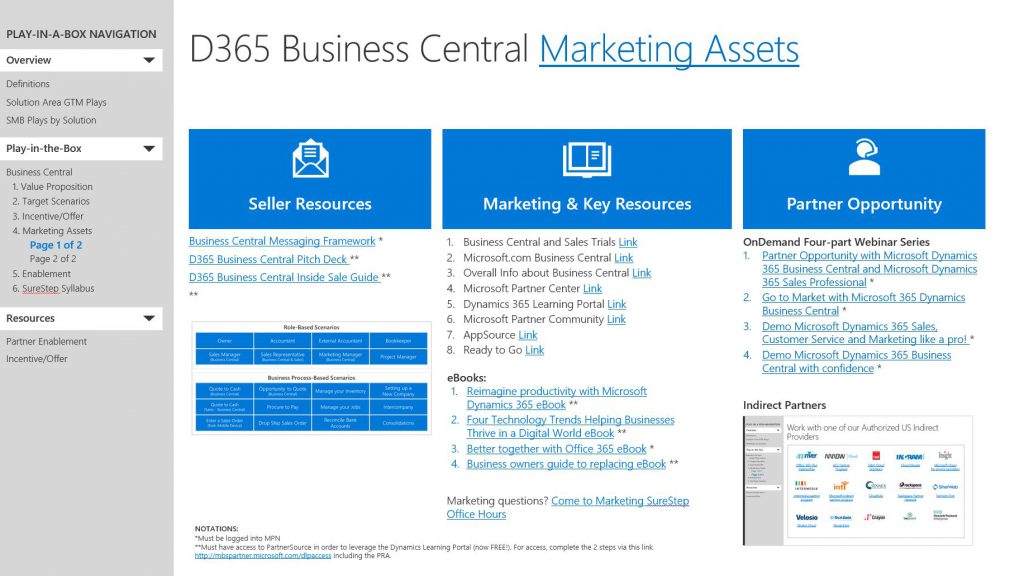 Microsoft Partner Community – Yammer
For those of you who are not familiar with Yammer, it is a social networking service used for connecting and engaging within an organization. Specifically, for Microsoft partners, Yammer Adoption Specialists can help you execute collaboration strategies to help you grow as a business. These specialists can steer you in the right direction and set you up for success. The group within Yammer that our company follows is "US Partner Community". Here, you can connect with several other Microsoft partners for a variety of different reasons. On a daily basis, partners post issues, reminders, updates, and more. This is an excellent resource to stay up to date within the partner community.
– Connect with other Microsoft partners
– Learn about important updates within the partner community
By using all five resources we have outlined above, our team is confident that your team will stay updated with the information needed to succeed as a Microsoft partner. Providing your clientele and target audience with valuable updates can prove to them that your practice deserves to be hired. You can watch my discussion with DCG's Marketing Manager here where we discuss which resource is our favorite and why.