I could ramble on about the difficulties of understanding the complexity within Microsoft licensing structure for Dynamics 365 for Customer Engagement apps and the Power Platform. However, I will spend this time being a bit more productive. This article will give a simple breakdown of how to assess your user population and determine which licensing fits for your organization. See the closing section at the end of the article for my reference materials and some other great posts that go into more detail about licensing.
How to Buy Dynamics 365
Microsoft has created licensing programs where you can buy Dynamics 365. Below I have outlined the three types of programs that you may come across.
Volume Licensing

This consists of Enterprise Agreements or Subscriptions.

Cloud Solution Provider (CSP)

This option is typically a Microsoft Partner capable of providing licensing and support throughout your agreement with Microsoft.
PRO TIP: I highly recommend finding a CSP to work with. They can provide resources essential for success.

Microsoft Online Subscription Program (Web Direct/MOSP)

This is buying through the Office 365 portal or another Microsoft website.
How to License Dynamics 365
Licensing is broken down by User SL or Device SL. The majority of all implementation for Microsoft Dynamics 365 CE will be User SL. Device SL is for a shared device that is licensed like in a retail setting.
Who are your users?
Full Users
– These users require the use of most or all the functionality provided within a Dynamics 365 app.
– Examples: Sales reps, customer service reps, finance employees, supply chain managers.
– These users are your core base for which you are building the D365 app. License them appropriately and empower them to do their work.
Additional Users
– These users are minor players in the D365 app. They will consume data, run reports, perform tasks or activities but do not require full access to every type of record in the system.
– Examples: Executive assistants, business analysts
– This is not a replacement license for the delegation role.
– The delegation role allows a user to perform actions within Dynamics 365 on another user's behalf. However, if those actions require interacting with core entities like Opportunities, then that delegated user must have a Full User SL.
External Users
– These are your customers. Determine if they are going to access the business processes, or data stored within Dynamics 365.
– There is no additional licensing needed for access.
– Access must come through custom API integration with a third-party website or Power Platform portal.
These users CAN NOT access the graphical UI of Dynamics 365 apps.
License Plans vs. Applications
Now that you have your users grouped according to their needs, it is time to determine the scope of your licensing. The Dynamics 365 license can be broken down into three kinds.
1. Plans
– These are large scoped implementations that will cross several D365 apps.
– A plan can include Dynamics 365 Sales, Dynamics 365 Service, and Dynamics 365 Finance and Operations.
2. Applications
– These licenses are for one specific Dynamics 365 app, for example Customer Service.
– This means users with this license will have access to everything relevant for Dynamics 365 Customer Service.
3. Team Members
– This is intended for those additional users who do not need full functionality of the D365 app.
– This is a small segment of your user base. DO NOT try and replace full users with Team Member licensing as the functionality under team members is restricted to avoid organizations taking advantage of this license.
All the licensing above allows for Dual Use Rights, which means licensing can be used for online or on-premise installations. This helps if the project starts on-premise and both types of instances need to be run simultaneously.
What about PowerApps and Flow?
I highly recommend this MSFT Community Blog post about Power Platform licensing. This explains how the pieces of the Power Platform fit into licensing. For our breakdown, I will keep it simple. PowerApps, Flow and CDS are included with either a plan or Application Enterprise license.
Storage?
The diagram below gives a good breakdown of how storage capacity is measured and provided for the D365 apps. Additional storage is provided at no charge at a rate of 250MB for database and 2GB for Files per Enterprise user license.

Professional vs. Enterprise
This is relatively new and allows for a more cost-effective approach to purchasing licensing. Most important to remember is THESE WERE NOT MEANT TO BE MIXED. It was not intended for the licensing to split in your organization between a few Professional and a few Enterprise users. These licenses provide access to specific functionality within a specific app.
Limitations of Professional User Licenses
– 15 custom entities
– 5 Business Processes
– 2 Forms and views
– 15 queues
– 5 System reports, charts, dashboards
– No Competitors
– No marketing campaigns, or lists or quick campaigns
– No product families, or hierarchies or relationships
– No access to Sales Hub
– No Business Units
– No Knowledgebase
– No Lead conversion to Opportunity
– No Teams for users, as in the security model use of Team
Below is from the licensing guide, showing users needs around custom entities and how to decide which license.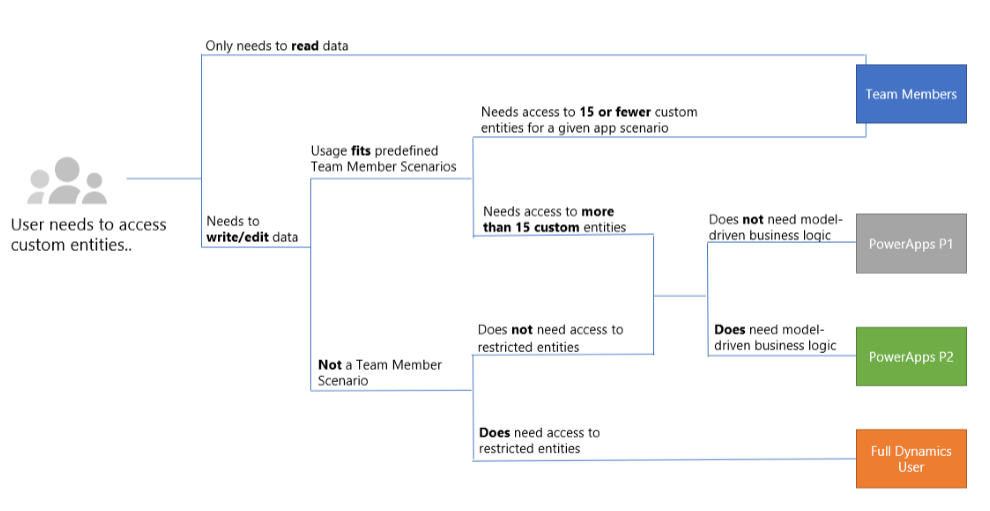 This is merely another guide or beacon on the massive journey to understanding how Dynamics 365 licensing works. Please review the full Dynamics 365 Licensing Guide for further details. I recommend this blog post for understanding Power Platform app licensing. Of course, the official MSFT pricing site is another great resource to begin your journey.
The most useful chart is in Appendix B on p.37 of the Dynamics 365 licensing guide. This chart breaks down in detail what Professional, Enterprise capabilities exist within each plan or application.
Please let us know how your licensing journey has been, we are eager to connect with our community.