Today, people and businesses in the IT industry want to upgrade and modernize their applications and infrastructure. One thing that drives this is hyperconverged infrastructure (HCI). HCI is a modern service that enables the management of all our integrated resources from a single common toolset. HCI reduces costs, and runs platforms in an infrastructure with better security and better uptime, as well as staying connected to the Cloud.


This is where Microsoft Azure comes into play. Azure Hybrid Services consolidate the services available for use on-premises. This new functionality allows you to discover Azure and learn the benefits of the features you can use to your advantage. Azure brings together the existing tools for disaster recovery, file sharing, monitoring, and point to point connectivity. Microsoft is continuously adding new functionalities onto this solution, such as the Azure Security Center.
Some challenges I have faced with the Hybrid Cloud have been resolved by Azure include:
Identities, RBAC, audit and compliance
Difference management/monitoring tools
Tracking Usage
Inconsistent environments and experiences
Migrating apps or data
One of the first challenges we have faced is identity. Customers are going to spread their application and assets on the public Cloud and on-premises environment. The last thing we want when operating a secure environment is to have two separate identities for the public and on-premises environment. To avoid this operational challenge, we use Microsoft Active Directory which allows us to utilize a standard identity framework across both the public Cloud and on-premises assets.
When we want to move to a cloud-based environment, we move from a pure CapEx environment to a more operational OpEx environment. Throughout the move, we want a consistent model to bill and chargeback within both of these environments. This is a challenge that many of our customers face without Microsoft Azure. The problem is it disappears with Microsoft's on-premises environment, which offers cloud on-premises with Azure Stack.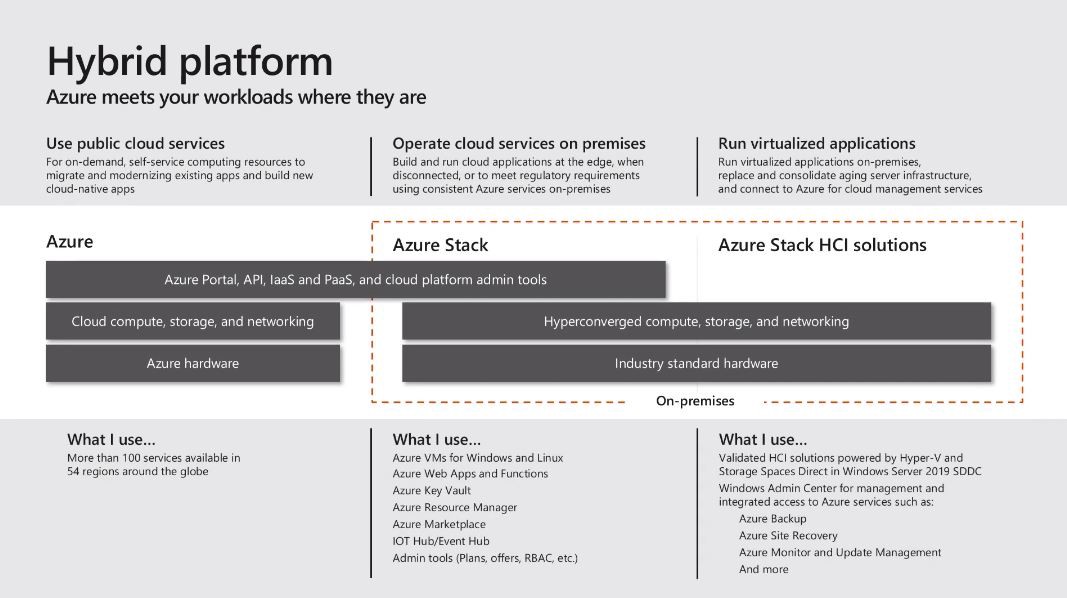 Frequent questions that both our team and our clients face are:
With all these cool features, how does Azure Stack compare to other solutions on the market?
After using it in our company and for many customers, I have to say it does not compare. Azure is simply in its own category.
I have an on-premises database but want to be able to back it up at any time. What tool do I use?
Azure Backup backs up data to the Microsoft Azure cloud. You can back up on-premises machines and workloads, and Azure virtual machines.
I have a virtual machine that's running on-premises, but in case of a disaster scenario, I want that to fall over into Azure. How is this possible?
With Azure Site Recovery you can ensure business continuity by keeping business apps and workloads running during outages. Site Recovery replicates workloads running on physical and virtual machines (VMs) from a primary site to a secondary location allowing you to temporarily fail over until the primary location is running again.
I want to be able to run many security tools against my on-premises infrastructure and measure my security baseline. What is the best solution for me?
The best solution is Azure Security Center. This solution is a unified infrastructure security management system that strengthens the security posture of your data centers and provides advanced threat protection across your hybrid workloads in the cloud – whether they're in Azure or not – as well as on premises.
Examples of our customers benefiting from Azure Hybrid Services
One of our customers in Southeast Asia is using Azure Stack to manage their entire meat factory. They are using a several applications which are running in virtual machines and interacting with various assets inside the factory. They cannot connect to the public Cloud because of latency reasons, but we helped them resolve that by using modern techniques in Azure Stack. Azure provides them with a context of a cloud, allowing them to manage that particular factory completely.
Another customer who wants to deploy applications in the North Sea on an oil rig. They will not have a lot of connection into the public Cloud, yet they have IoT data that needs to be processed. The plan is to deploy Azure Stack in the oil rig so they can run and collect IoT data using a modernized Cloud application within that instance. With the limited bandwidth that they have, they can send up a certain amount of the data back into Azure and do even more in that environment.
An interesting occurrence I have found is the extensive amount of capabilities customers have, even in a small two-node solution. We have deployed many two-node solutions in small branch offices, coffee shops, retail environments, etc. This solution allows these businesses to greatly save on costs while still having the right solution for their needs. The fact that the solution is so small creates its own challenges. How do we back it up? Do we need to bring in another backup solution? The cool thing is, there is a software-defined Azure network adapter that created an encrypted tunnel for this right into Azure. This allows our customers to keep their business moving forward along with the ability to leverage the software-defined infrastructure in Azure Stack HCI.
There are so many amazing things we can do with Microsoft Azure! It is a great solution that is solving problems for businesses and industries around the world. We gain the benefits that include reduced costs, the ability to run our platforms in our infrastructure with better security and better uptime. All of this occurs while we stay connected to the Cloud.